Entries in Outdoors (3)
Linda Alexandroff
These ideas will transform your outdoor space into an oasis you may never want to leave.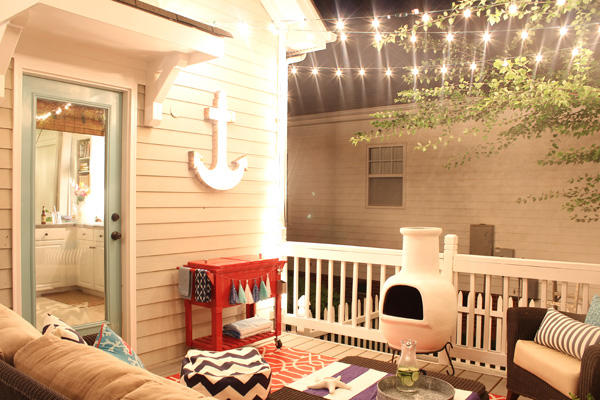 Day or night, this cozy deck is the place to be. Plush furniture and an outdoor rug maximize comfort, and string lights cast a warm glow. Image: Summer Hogan
When your mom told you to turn off the TV and play outdoors already, she knew what she was talking about. Hanging outside is good for our mental and physical well-being.
As adults, having an outdoor retreat adds an economic component: Upwards of 80% of homebuyers said patios and front porches are "essential" or "desirable," according to the "What Buyers Really Want" survey from the National Association of Home Builders (NAHB).

So how come when we move into our dream home, we hardly ever use our decks, porches, and patios?

An anthropological UCLA study, described in the book "Life at Home in the Twenty-First Century," blames our fascination with digital devices — tablets, computers, televisions, games — for keeping us cooped up. The UCLA research participants spent less than half an hour each week in their outdoor space. And these were Californians.

So this summer let's make a pledge to pay more than lip service to outdoor living so we can be happier, create lasting memories, and generally take advantage of what home has to offer.

1. Go Overboard on Comfy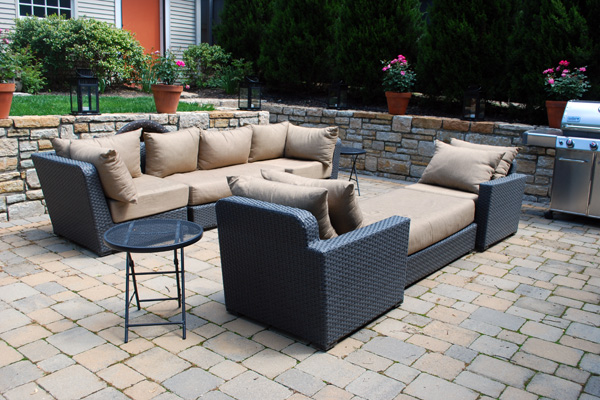 Image: Liz Foreman for HouseLogic

When you step into your outdoor space, your first sensation should be 'ahhhh'. If you're not feeling it, then your space is likely lacking the comfy factor. Comfy is easy to achieve and can be as low cost as you want. Start simple with a cushion or two or even a throw. Some other simple strategies:
Make sure your outdoor seating is as cushy as your indoor furniture. Today's outdoor cushions aren't the plastic-y, sweat-inducing pillows of the past. Plus, they can handle a downpour and spring back once they dry.
Lay down outdoor rugs so you're just as comfortable barefoot as you are inside.
Give yourself some privacy. Create natural screens with shrubs, bushes, or even bamboo reeds. Or install prefab screens from your local home improvement store.
2. Create a Broadband Paradise

Our devices and electronics have conspired to keep us on lock down. Since we're not about to chuck our digital toys, boot up your outdoor space so you can keep texting, posting to Instagram, and watching cat videos.
Wireless outdoor Wi-Fi antennas provide an extra boost so you can stay connected.
A solar USB charging station keeps your gizmos powered.
Wireless speakers make it easy to bring your music outdoors, and mask a noisy neighborhood.
An all-weather outdoor TV lets you stay outside for the big game.
3. Blur the Line Between Indoors and Out

Creating a seamless transition between your home's interior and exterior isn't as simple or low cost as adding comfort, but it's the most dramatic and effective way to enhance your enjoyment of the space. Plus, it can increase your home's value.
The most straightforward, cost-effective solution: Replace a standard door opening with sliding or glass French doors.
Use the same weatherproof flooring, such as stone tile or scored concrete, outside as well as in the room leading to your backyard oasis.
4. Light the Way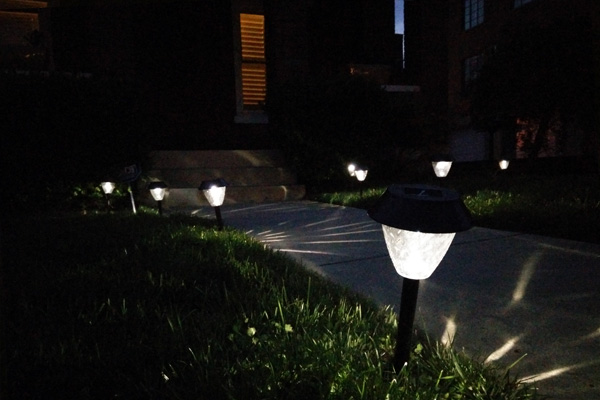 Image: Liz Foreman for HouseLogic

When the sun goes down, don't be left groping for your wine glass. Outdoor lighting dresses up your home's marketability and appeal (exterior lighting is buyers' most wanted outdoor feature, according to the NAHB study), makes it safer, and lets you spend more time outside.
Use uplighting to highlight trees, architectural details, or other focal points.
Add sconces or pendant lights to make evening entertaining, grilling, and reading easier.
Illuminate walkways, rails, and steps with landscape solar lights.
Hang fairy or string lights to set an enchanting tone.
5. Make Your Mark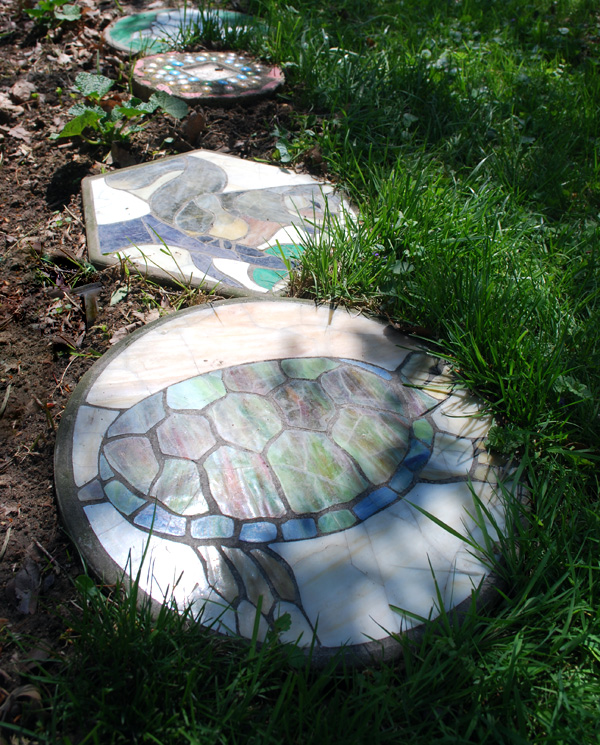 Image: Liz Foreman for HouseLogic

Let your style dominate your backyard space.
Create a path made with colored glass, brick, or other interesting found materials.
Craft a one-of-kind outdoor chandelier.
Build a pizza oven, custom seating, or other feature you crave.
Add personal décor that makes you happy.
In fact, make your outdoor retreat an ongoing project where you can hone your DIY skills.

6. Don't Give Anyone an Excuse to Stay Inside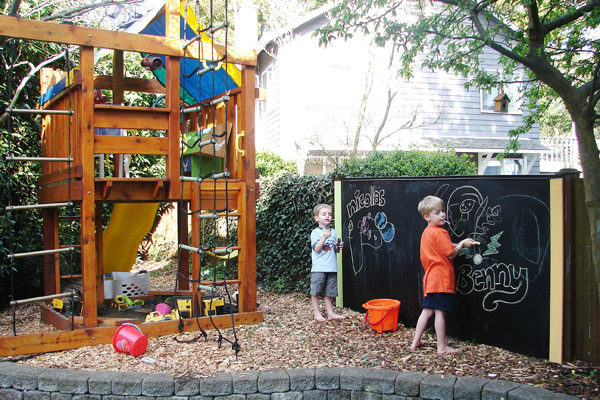 Image: Tasya Demers from My House and Home

Your outdoor space will magnetically draw family and friends if it has features they find appealing.
A fire pit is a proven winner. Food and fire have brought humans together since the dawn of time.
Give wee ones the gift of magical thinking with an outdoor playhouse.
Add whimsy with a chalkboard fence that both kids and fun-loving adults will enjoy.
Add a doggie window in your fence to entertain Spot. Installing a dog run may even boost your home's value. FYI: It's been said that pets are one of the top reasons why people buy houses.
Related: Outdoor Projects You Can Do with the Kids

7. Rebuff the Elements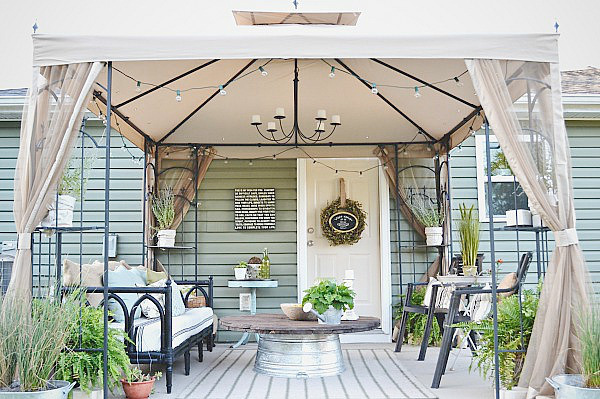 Image: LizMarieBlog.com

Hot sun, rain, wind gusts, and bugs are the archenemy of good times. Here are tips and strategies to help you throw shade on Mother Nature:
Install an awning, canopy, or pergola. It'll make it easier to read your Kindle or iPad and keep you dry during a summer shower. Look for products with polycarbonate panels, which block UV rays, too.
Rig glass fence windscreens to the keep your BBQ fires burning.
Screen in your porch or deck against bugs. But screening will be for naught if you forget the slats between wood planks. Cover the floor with outdoor carpet or staple screening to the underside of floorboards.


Read more:
Follow us: @HouseLogic on Twitter | HouseLogic on Facebook
Linda Alexandroff
Buyers are drawn to backyards in the summer months. These simple tips will help ensure a listing's outdoor space looks inviting. Plus, learn how to properly fly Old Glory.
Just as summer marks a segue from basement birthday bashes and dining room celebrations, it also means sellers should adjust their staging strategy to include outdoor spaces — especially during the months that backyard BBQs and poolside cocktails reign.
"It makes perfect sense to me from the point of view of preparing for a sale," says Constantine Vasilos, interim head of the interior design department at Harrington College of Design in Chicago. "Just like indoors, you don't want any clutter or a worn-out look in an outdoor space. You want people to feel comfortable."
The staging strategy shift is genuine: Saber Grills recently surveyed 1,500 U.S. home owners, and 83 percent said that outdoor living space is their favorite part of their home, and 81 percent called their outdoor space "the heart of the home."
These findings don't surprise Vasilios, who owns a 1910 white stucco house with a small outdoor yard in Chicago. "In a typical house, the double door connects to the outdoor space, which becomes a wonderful escape from tensions and dilemmas of work," Vasilos says.
Since the outdoor space is an extension of any home's interior — whether it's the porch of an old Victorian with a quaint swing, a postage-stamp backyard of an urban 1920s bungalow, or a brand-new rooftop retreat with an outdoor fireplace at a refurbished downtown city loft — it's smart to apply the same decorating principles for the indoors to the outdoors.
5 Tips to Spruce Up Yards and Decks
1. Reupholster cushions and seats in need of updates or repair. Consider using water-repellent, UV-protected fabrics for slipcovers or fitted, zippered cushion covers. These changes will instantly update the outdoor space. "It makes it feel fresh and tidy, ready to use," Vasilios says.
2. Repaint garage walls. "It's a good investment," says Vasilios. "You can feel the difference; it feels warm." It's also an update that takes little effort and money. A fresh coat will also spruce up your outdoor space. It's important to keep the garage wall white; otherwise, it will look cheap and tacky, he says. Besides, the sunshine will reflect the white wall inside the home.
3. Play with neutral color in small doses outside. Paint a small section of a wood fence white, green, or blue in a large backyard. "Keep the color connected to nature; think of the calming feel of outdoor water fountains that are popular now," he advises. "Just like a mirror or a painting is a focal point inside, the same applies outside," he says. Avoid accent colors in a small garden or BBQ space; it's too overwhelming. "With color, remember that the background is green —trees or plantings," he says. One unobtrusive way to use blue is on the ceiling of a porch. "Think about the viewpoint of where you're sitting when you're painting."
4. Lighting is important. "For the seller, indirect lighting is key," says Vasilios. For starters, try inexpensive tea lights around tree branches or a trellis. Define a boundary around a table with lights. Sconces with reflectors are a top-tier way to light the outdoors. "They reflect onto the bushes," he says. Eschew certain LEDs unless the outdoor living space has a contemporary vibe. Be especially wary of fluorescent lighting, which can kill a space with blue or green light.
5. Buy inexpensive plants. Vasilios likes white flowers such as white orchids to arrange strategically outdoors during showings. He especially likes to place them at entryways, where they draw the eye, or at the top of the stairway.
Flying the Stars and Stripes
Since Independence Day is around the corner, your sellers are likely to hang flags to celebrate the day the United States of America was initially formed. You also might be displaying the Stars and Stripes outside your own office or residence. Here are some patriotic flag etiquette tips to keep in mind, according to the Veterans of Foreign Wars.
The U.S. flag should always be displayed above ground. It should never touch the floor, dirt, or water. What's more, the union side (the stars) should be in the upper corner. A flag displayed with the union side down signals distress.
If flown on a staff with other flags, the American flag should fly at the top.
A flag that hangs over a street should have the union toward the north or east, depending on the street direction.
The U.S. flag should be displayed to its own right, the observer's left, if it's grouped with other flags. Other nations' flags are flown at the same level. State and nongovernmental flags should fly lower.
The American flag should be displayed only during daylight hours (sunrise to sunset). It can be displayed at night if it's illuminated.
The flag should be properly folded and stored when it's not in use. Here's an easy primer on the proper way to fold and store the U.S. flag.