Entries in Decorating (3)
Linda Alexandroff
Less is sometimes more...3 Tips for designing a small space.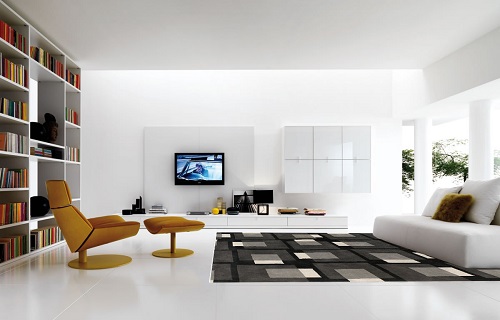 Small rooms can present a real challenge for any would-be interior designer, whether it's a studio apartment or a tiny attic bedroom. Here are a few tricks of the trade for creating the feeling of space - without adding square footage.
Try a fresh coat of paint
One of the simplest yet most effective measures one can take is changing up the color scheme. When choosing a new hue for the walls and/or floor, opt for a lighter shade. Light colors (especially white) create a sense of airiness that contrasts sharply with the cozier feel of darkly-colored rooms, which have a tendency to absorb light.
Giving a ceiling a new coat of paint can be helpful, too. Anything that draws the eye upwards will make a room seem bigger. Wallpaper or a painted design on the ceiling will accomplish that task.
Change up the furniture
Although it may seem counterintuitive, decorators actually should not push furniture up against the walls to maximize space. Pulling furniture a little bit away from the walls will make the room appear larger and more open. Similarly, it is a good idea to choose chairs and couches with exposed legs, which also lend the area a sense of openness. The same goes for ottomans, cabinets, dressers and end tables—the leggier the better.
If a standing bookshelf is taking up too much room, ditch it and instead hang shelves near the ceiling, which will both free up space and draw the eye upwards. If the room has hardwood floors, a rug with vertical stripes can elongate the space, in the same way that striped clothing can have a slimming effect on the body. Alternately, using several small rugs to divide the room into sections can also make the space appear larger.
Expansion through decoration
Finally, there are many little (or sometimes big) decorations that can be added to a small room to really help to transform it. For example, using an oversized mirror to make a room feel larger is a well-known trick, but sometimes a large piece of wall art can manage the same feat. Using one large, attention-grabbing art piece is preferable to cluttering up a wall with lots of different pieces.
As for other decorations, they should be well-proportioned and used sparingly. In a small room, anything larger than a bread box is likely to stand out, so smaller plants and knickknacks are preferred—unless there is one big "statement piece" to tie the room together. In general, though, clutter is the enemy of spaciousness, and one should exercise appropriate restraint when picking out decorations for a small room.
Just because you have a small room does not mean anyone else has to know. Follow these tips and tricks for making a tiny space feel bigger, and you can effectively hide a cramped room in plain sight.
Article from Edgewood Properties.
Linda Alexandroff

If your front door or fireplace mantle looks bare after you take down holiday decorations, a DIY wreath is a quick and easy way to add a personal and welcoming touch. Follow these three steps to design to craft a wreath to dress up your home.
After the holidays are over, and the ornaments and lights have been packed away, your house may need more nonseasonal decorations to freshen up your decor. If your front door or fireplace mantle looks bare, a DIY wreath is one quick and easy way to add a personal and welcoming touch to your home. Follow these three steps to design to craft a wreath guaranteed to dress up your home year round.
Step 1: Choose Your Base
Wreath-making begins with a base to give proper form and shape to your decoration. Most wreaths are round, but square wire wreaths or heart-shaped foam also works well. Foam bases can be wrapped with colorful fabric or ribbon. Grapevine coils are a standard found preformed into a circular base in most craft stores. Grapevines work especially well as a base for a floral wreath or one using greenery to create a natural look.
Image Source: Flickr/Selena N. B. H.
Step 2: Choose Your Decorations
Once you've decided on a base, select the color scheme and style of the wreath that fits best in your home. If you'd like to add a colorful focal point to neutral walls, choose bright fabrics or felt. To personalize a wreath for your front door, add wooden monogrammed initials that can be purchased at a local craft store. Other fun decorations include sea shells, felt flowers, and curled paper or ribbon. And, of course, in Philadelphia, sports related themes incorporating Eagles' green or the Phillies' red and white are popular. If you're looking for a DIY wreath to create with your kids, consider using something edible, such as gumdrops or marshmallows attached to a foam base using toothpicks.
Step 3: Assembly
Depending on your chosen wreath materials, you may need to employ a few assembly techniques to complete your craft project. A hot glue gun works well for foam or grapevine bases. Wreath ties or floral wire will allow you to attach flowers or other ornaments to wire wreaths and can be easily disguised. If you're using foam, spray-on adhesive is also worth a try for a fast way to attach a number of items.
A DIY Wreaths is a quick and inexpensive way to personalize your home decor after taking down the holiday decorations.
Main Image Source: Flickr/Karen Cox
Jennifer DiGiovanni is a freelance writer and a partner in a real estate investment firm focusing on residential properties. She previously worked in the financial services industry and has earned an MBA from Villanova University. Jennifer enjoys writing about real estate, home improvement and small business.